USB Explorer 200
USB 2.0 Protocol Analyzer
The USB Explorer 200 is a non-intrusive high speed USB 2.0 protocol analyzer that enables you to display bus states, packets sent and decode descriptors of the USB protocol. It can detect errors in devices, host controllers, embedded softwares or drivers as well as measure their performance. Very simple to use, this USB analyzer is the ideal companion for anyone developing USB devices, hosts, embedded software or drivers.
Available in two distinctive versions, the USB Explorer 200 will be matching perfectly your own development needs. The Standard Edition contains essential functionalities for every USB developer. The Professional Edition adds a hardware trigger, extensive USB classes decoders as well as a USB Analysis Development Kit enabling one to develop custom USB analysis software.
» USB analyzers comparison chart
Software
The USB Analysis Software is available for download on our website. Many samples are included in it giving an extensive rundown of possibilities. Click the image to expand it.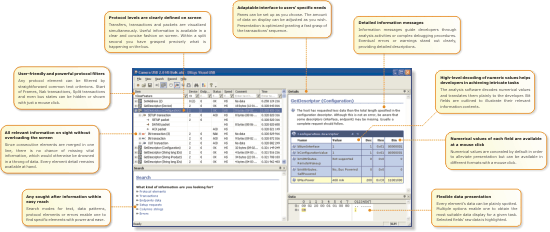 Click the image to expand it
Hardware
A USB protocol analyzer enables engineers to actually see what the data on the USB bus looks like. Connected between a computer and a peripheral, the USB Explorer records all data, electrical states and control information transmitted on USB. It affects neither communication nor peripheral behavior.
Benefits
Saving on development and maintenance costs
Preventing simple errors from becoming intricate problems
Improving quality and reliability of USB subsystems
Streamlines development and testing processes
Accelerating learning curve for USB protocol
Unburdening technical support staff
Highlights
Compatible with all three USB 2.0 speeds
Automatic detection of the Link Under Test speed
Measurement of USB bus states and low level protocols
Highly affordable permitting to supply each developer with one unit
Non intrusive analysis
Powerful hardware trigger
High level decoding of classes requests and descriptors (Mass Storage, etc.)
Applications
Enumeration issues validation
USB device and host development
Performance analysis
USB drivers and software stacks debugging
Test-bench automation
More information
The links available at the top of the page allow navigating easily in the product's pages. The available pages are the followings:
News
| | |
| --- | --- |
| Aug. 7, 2008 | Ellisys Announces SuperSpeed USB 3.0 Protocol Analyzer. Read the press release » |
| | |
| Dec. 6, 2007 | Ellisys releases an update to its analysis software including a new Summary view, an improved real-time monitor and several other enhancements. Learn more » |
| | |
| Nov. 8, 2007 | Ellisys announces the USB Explorer 260 protocol analyzer. Press release » |
| | |
| Jan. 10, 2005 | Ellisys is unveiling the USB Explorer 200 Professional Edition, a USB 2.0 Analyzer with advanced functionalities. |
| | |
| Apr. 14, 2004 | Ellisys unveils the USB Explorer 200, a powerful USB 2.0 high speed protocol analyzer. Read the press release » |